In such a HP rich environment I could hardly neglect LJ and not mention how I have tickets to the final film now stuck to my fridge, waiting for the fated hour. It brings back memories of the Spoil Me DH community I was in in which the famous 'carpet book' inspired me to draw fanart before I even got my own hands on a copy of the actual novel. My 'Molly Goes Apeshit' has to be seen to be believed and I think I've got a MS Paint drawing of Snape/Vampire Bat flying away--oh and one of Harry saving Hagrid with the chuckilicious line 'Accio Hagrid'!
Beth wants me to wear my old Lucius t-shirt of course. I drew it in time for HP 5, where we saw it right after getting the book at the Borders right next to the theater. I'm surprised Beth is going to see HP7 with me actually. After my behavior during 5, I'm surprised she still will speak to me or be seen with me in a public setting anywhere in the Federal Way area. As luck would have it, I ran into a woman my age who fangasmed over Lucius too and I know I wrote about it and how we screamed out his name and swooned whenever he narrowed his eyes THAT way at the screen.
Do they have chiropractors in the wizarding world by the way? Reason I ask is I'm thinking of all the times we saw Luce getting pitched backwards into walls and corners during fights all of HP7 Part 1. The man just can't win. And the expression on his face when Voldy snapped Snakey off the cane end? Oh dear LORD I nearly died. I want that shot blown up and stuck on my wall in here.
Am I coming back to LJ? I dunno. I just felt like posting since it was HP related and it's been well over a year, but if I get going here again and stop being Facebook's bitch, I'll try to post artz too.
I feel: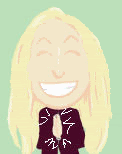 ecstatic